Client Corner NAET helps alleviate eczema Symptoms before NAET: Before I started treatments and New Life Allergy Treatment Center I was getting eczema marks on my body. Another symptom I had before was after eating or drinking something that had caffeine in it my stomach would get very upset and there was a little heartburn also. Symptoms after NAET: After treatments I have noticed that I have not had one eczema mark on my body. Caffeine does not affect me as it used to. Drinking pop or eating chocolate no longer upsets my stomach like it used to and the heartburn has gone away. From: C. S., Birmingham, MI Call New Life Allergy Treatment Center today to get your health back on track! 248-792-2229



Cancer and Pesticides
From RESTORE tm: In honor of National Cancer Prevention Month, we would like to take a moment to acknowledge this epidemic and the part that pesticides and herbicides play in its prevalence. Glyphosate is the world's most widely used herbicide. In 2018, a jury trial found that glyphosate, the main ingredient in Roundup, had potential risk to cause cancer in humans. The ruling found that the risks were known by the scientific community and that the company failed to adequately warn of the dangers. What part do these agricultural chemicals play in the cancer epidemic? Are there ways to reduce our exposure? Our latest RESTORE blog has some answers to these growing concerns.
After months of filming, the highly anticipated first short film of our sister project, the Farmer's Footprint docu-series will be released today, February 12th, streaming on their website!
Watch the Trailer This film series explores scientific findings from RESTORE founder and CEO, Dr. Zach Bush, MD, and soil health expert Dr. Allen Williams, that identify the root cause of the current chronic disease epidemic and its connection to chemically-dependent agricultural practices. Each short film in our series highlights a farming family that is paving a path to a new future for modern farming and food independence: Regenerative Agriculture. This inaugural film showcases the trials, learnings and victories of the four-generation Breitkreutz family from Stoney Creek Farm transitioning from conventional farming to regenerative agriculture in Redwood Falls, Minnesota.
Using conventional methods, they saw their soils degrade and their input costs rise every year. Transitioning to regenerative practices has helped their row cropping operation and significantly reduced the input costs for cattle. This film tells the story of how they did it. For more information on Restore, please go to their website: http://blog.restore4life.com/faq-items/


Sheryl Says: Use Essentials Oils for Home Care Our bodies are bombarded with chemicals, toxins, and pollutants from varying sources on a daily basis. Over time, these toxins begin to build up in our bodies and the immune system can become compromised, making us more susceptible to disease, digestive and gut disorders, auto-immune dysfunction, etc. Toxins can be found in everything: our food, our environment, the air we breathe, and the products we put on our skin. Toxins are also found in the products we use to "clean" our homes. For more information click here to go to Sheryl's website: http://sherylshenefelt.com/ New Life Allergy Treatment Center carries Young Living Thieves Oil products for your home. Formulated with the power of Young Living's Thieves essential oil blend, Thieves Household Cleaner is a concentrated, versatile solution that gives you a deep clean when scrubbing, degreasing, spot cleaning, dusting, and more—all without harsh chemicals. With its spicy-sweet aroma and plant-based formula, it's great to use around everyone in your family, including pets. Create a clean, welcoming space that's perfect for everyone with the fresh, inviting scent and sparkling clean of Thieves Household Cleaner.


Superfood of the Month: Eggs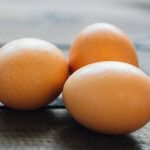 Which came first, the chicken or the egg? These days, this age-old question actually seems a lot less confusing than understanding the difference between "pasture raised," "free-range," and "cage-free." You know, those buzz words printed all over the egg cartons – at your local grocery store. Which one is best? What's the difference? One thing is true: those 'healthier' varieties are more expensive than the conventionally-raised eggs. But, the question remains: are they really worth the extra cash? Comparing pasture raised eggs to conventional brands Conventionally-raised eggs come from chickens that are force-fed a garbage diet and kept in unbelievably inhumane conditions. Leaving alone the ethical implications, you're still stuck with sub-par eggs – that are riddled with chemicals and contain a measly 30 to 80 milligrams of omega-3 fatty acids. Truth is, it is worth the few extra dollars for a higher quality egg. But which one should you buy? From Ask Dr. Weil (http://www.drweil.com/drw/u/QAA401387/Are-Egg-Yolks-Healthy.html) Question: Are Egg Yolks Healthy? What can you tell me about egg yolks? I have heard conflicting information about whether or not you should eat them. Do you think it is healthy to eat egg yolks? Answer (Published 12/30/2013) Bottom Line: Choose omega-3 enriched eggs from organically raised chickens Egg yolks contain a rich array of essential vitamins and minerals, particularly vitamins A, D, E, B12 and K, riboflavin, folate and iron, while the whites are a great source of low-calorie protein. The egg's tarnished reputation comes from the cholesterol the yolk contains. In 1973, the American Heart Association began urging us to cut down on our egg consumption as a means of protecting against heart disease, which is associated with increased cholesterol levels. That's no longer necessary. We now know that the cholesterol in egg yolks doesn't have much influence on serum cholesterol levels and by extension the risk of heart disease. As long ago as 1999, a study from the Harvard School of Public Health published in the Journal of the American Medical Association found no increased risk of coronary heart disease or stroke among healthy men and women who ate as many as seven eggs per week compared to those who ate fewer than one per week. The researchers tracked over 117,000 American adults for up to 14 years to reach their conclusion. They did find what appeared to be a correlation between high egg consumption and heart disease among diabetic men and women. More recent research suggests that saturated and trans fats– not cholesterol from foods - are the dietary factors most responsible for increased cholesterol levels, although the association with saturated fat is now in question. Based on what we now know, if you enjoy eggs, I see no reason why you shouldn't eat them – including the yolks – several times a week. I advise choosing omega-3 enriched eggs from organically raised chickens. To get the omega-3s into the eggs, manufacturers of chicken food add algae, ground flaxseeds or fish oil. Essential fatty acids such as omega-3s cannot be made by our bodies and must be obtained from the diet. We need these healthy fats for optimal brain growth and development. They also have anti-inflammatory effects that may reduce the risk of cardiovascular disease, arthritis, high blood pressure, tumor growth and diabetes. Organic eggs come from chickens that eat food containing no pesticides herbicides, fungicides and commercial fertilizers. The hens are never given antibiotics, and are cage-free with access to the outdoors. Organic chicken feed contains no animal byproducts. It is also important to be prudent about what you eat with your eggs. Home fries or white toast with sugary jam are sources of unhealthy fats and high-glycemic-load carbs with health effects that won't be neutralized by the nutritional benefits of eggs. Andrew Weil, M.D.


Recipe: Deviled Avocado-Eggs http://www.tosimplyinspire.com...



Ingredients 3 hard boiled eggs, cut in half 1 large avocado 2 tsp lime juice 1 tsp cilantro Pinch of garlic powder, salt and pepper Sprinkle with paprika, optional Directions Remove the cooked yolks from the hard boiled eggs into a bowl. Add the avocado to the bowl next. Then add the remaining ingredients and mash together well with a fork. Add the mixture to the egg halves Sprinkle with paprika if desired. Call New Life Allergy Treatment Center today to get your health back on track! 248-792-2229 How New Life Allergy Treatment Center and NAET can help you Food allergy may constitute a major burden to children and their families. A 3-year-old girl was intolerant to milk, sugar, egg white, pork meat, and other foods, causing eczema and dyspnoe. She was treated with Nambudripad's Allergy Elimnation Technique (NAET), a combination of kinesiology and acupressure. After 7 treatment sessions (within 4 weeks) she was free of symptoms. After three years, she can still eat everything without symptoms. This case report highlights the possible benefit of NAET for children with food allergy. Randomized clinical trials should be encouraged to study the effectiveness of NAET in treating food allergy. For more information: https://www.ncbi.nlm.nih.gov/pmc/articles/PMC2556663/ Call New Life Allergy Treatment Center today to set up your appointment. (248) 792-2229

OFFICE POLICIES
Referral Reward
Refer patients and get $10 off of your next treatment.
Family Plan
If three patients from the same family are seen in one visit, charged for two.
Cancellation Policy – 24 Hour Notice
In order to honor our patients' time and scheduling needs, we will be enforcing our cancellation policy.
All rescheduled or cancelled appointments require 24 hours notice.
You will be charged for missed appointments if 24 hours notice is not given.

First missed appointment: no charge
Second missed appointment: $25 charge
(See receptionist for more details)
Newsletter special! Refer a friend and receive $10 off your next treatment! * call USA 248-792-2229 or Canada 519-962-8754 or stop in the office and ask receptionist for details