"To be a source for optimal health for those who wish to seek it naturally"


WE WILL BE CLOSED AUGUST 16th - 21st
Note to patients who have not been in for a while:
If you wish to continue with your treatments, we can pick up where you left off. It is not necessary to be retested. Terry will review your health history and discuss any changes. Ask Terry about treatments and tips to help prevent and/or reduce symptoms associated with allergies, colds and the flu.
Referral Reward -For every new patient you refer, earn $10 off your next treatment. Family Plan -If 3 patients are seen from the same family in one visit, 1 is FREE!
SAME DAY APPOINTMENTS OFTEN AVAILABLE. USA (248) 792-2229 Canada (519) 962-8754



Business Hours: Our Birmingham, MI office is open Mondays and Wednesdays Our Windsor office: Terry on Thursdays Jacob on Monday, Tuesday, Wednesday, Friday and Saturday Hours are from 7:30am - 6:00pm (closed for lunch 1pm -2pm) Please call 248-792-2229 for your appointment in Birmingham. Please call 519-962-8754 for you appointment in Windsor. Birmingham patients, please call the office Mondays and Wednesdays if you wish to purchase probiotics with free shipping.
In This Issue
Important: Please read below how we are keeping you safe during your visit. Client Success Story: Sinus pressure & Summer allergies Recipe of the month: Spicy Seafood Stew Superfood of the month: Seafood How NAET can help you with your Allergies. Purchase of probiotics via phone. Clean Eating Magazine: Great recipes and meal plans, free online.
Avoid allergy drugs and get NAET treatments today!
Call New Life Allergy Treatment Center today to set up your appointment. USA (248) 792-2229 Canada (519) 962-8754
How we are practicing safely
Your health and the health of our staff is our number one priority. Below are policies we have in place for patients to create an environment that is safe for everyone and minimize the risk of transmitting viruses or infections.
If you have had a cough (non-allergy related), fever, or if you are not feeling well (even mild symptoms) on the day of your appointment, please call the office to reschedule.
Face masks are now optional. If you have any symptoms or exposure, please follow CDC guidelines for quarantine.
Patients will be instructed to use sanitizer.
Terry is happy to wear a mask at your request while she is treating you.
Please refrain from wearing any fragrances as many patients are sensitive.
Call New Life Allergy Treatment Center today to get your health back on track! USA (248) 792-2229 Canada (519) 962-8754

Client Success Story! NAET successfully alleviates problems with Sinus pressure & Summer allergies Before treatment: Sinus pressure with constant drainage and sneezing. After Treatment: All symptoms have drastically improved. Now I can go outside without the worry! Call New Life Allergy Treatment Center today to get your health back on track! USA (248) 792-2229 Canada (519) 962-8754
Proud to Carry Genestra Brands Probiotics
INTRODUCING HMF IMMUNE
For school age children and adults.

Great-tasting immune support formula*

• Supports upper respiratory tract health in children and physically active adults.*

• Offers 30 billion CFU per dose from a combination of five proprietary strains, plus vitamins C and D.

• Helps to maintain proper muscle function and nutrient metabolism.

• Once-daily chewable tablet available in a delicious natural blackcurrant flavor.

For more information: www.seroyal.com/hmf-immune-1.h...

PURCHASE OF PROBIOTICS via phone and free shipping will continue to be available. If you would like to order any products, please call the office and leave a message indicating that you would like to place an order. We will return your call within 24 hours or the next business day to get the details necessary to ensure that you receive your supplements. US 248-792-2229
Seafood Provides Omega-3 Fatty Acids for a Healthy Ticker
Unlike many animal products high in saturated fats, such as red meat and processed meats, that can raise the risk of heart disease, fish is full of protein and rich in healthy fats. Omega-3 fatty acids — namely the type you get from seafood including fish — are particularly beneficial to our bodies, notes the NIH. These types, eicosapentaenoic acid (EPA), and docosahexaenoic acid (DHA), are used more efficiently than the third type of omega-3, alpha-linolenic acid (ALA), which comes from plant sources such as flaxseed and nuts, past research has shown. Overall, omega-3s can help play a role in reducing your risk of heart attack and stroke, alleviating depression, and aiding infant development, according to the NIH.
Spicy Seafood Stew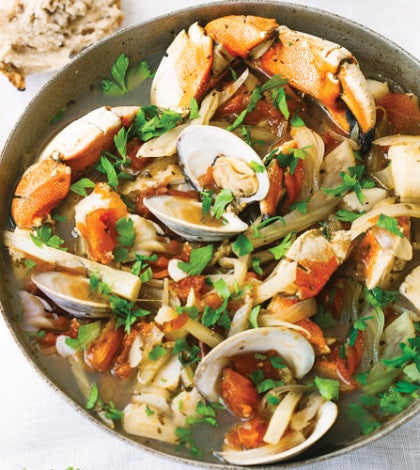 Ingredients
1 tbsp organic unsalted butter
1 yellow onion, thinly sliced
2 cloves garlic, minced
2 stalks celery, chopped
1 bulb fennel, cored and thinly sliced
1 red chile pepper, seeded and thinly sliced
1 tsp each dried oregano, thyme and basil
1/2 tsp ground cayenne pepper
1 cup dry white wine
1 28-oz BPA-free can diced tomatoes, with juices
2 cups low-sodium chicken broth
1 cup clam juice
1 lb littleneck clams, scrubbed
1 lb frozen cooked crab claws
1 lb cod, cut into 1-inch chunks
1/2 lb sea scallops
2 tbsp chopped fresh flat-leaf parsley, optional
Preparation
In a 5-qt slow cooker on high, melt butter. Add onions and cook, stirring occasionally until onions soften slightly, about 6 to 8 minutes. Add garlic and cook until fragrant, about 2 minutes. Add celery, fennel, chile, oregano, thyme, basil and cayenne; stir to combine. Add wine, tomatoes, broth and clam juice. Cover and cook on high for 2 hours.
Meanwhile, soak clams in cold water for 20 minutes.
Using a slotted spoon, transfer clams to slow cooker; discard water. Cover and cook until clams are open, about 20 to 25 minutes. Discard any unopened clams. Add crab claws, cover and cook until heated through, about 10 minutes. Add cod and scallops. Cover and cook until fish is firm and opaque and flakes easily, about 10 minutes longer. Sprinkle with parsley (if using).
Crab Cakes with Honeydew-Strawberry Salsa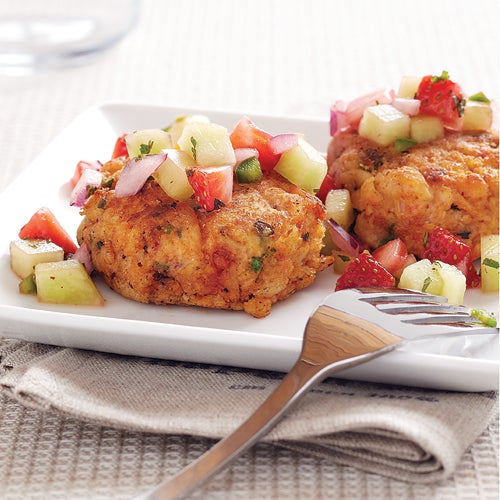 Ingredients
1 lb crabmeat, drained and picked over for shells
1 tbsp Dijon mustard
4 tbsp whole-wheat panko bread crumbs
2 tbsp chopped fresh parsley
4 scallions (white and some green parts), thinly sliced
Zest 1/2 lemon
1 1/2 tsp salt-free chile or Cajun seasoning blend (TRY: Mrs. Dash Extra Spicy Seasoning Blend)
1 tsp smoked paprika
1/8 tsp sea salt
1 large egg
1 large egg white
1/4 cup white whole-wheat flour
Fresh ground black pepper, to taste
2 tbsp safflower oil, divided
Lemon wedges for serving, optional
Salsa
1 cup diced honeydew melon
1 cup diced strawberries
1/2 small red onion, chopped (about 1/2 cup)
1 jalapeño pepper, seeded and chopped (about 1/4 cup)
3 tbsp chopped fresh parsley
1 1/2 tbsp fresh lemon juice
Pinch sea salt
Preparation
Prepare crab cakes: In a large bowl, combine crabmeat, Dijon, panko, parsley, scallions, lemon zest, chile seasoning, paprika, salt, egg and egg white. Gently fold mixture with a rubber spatula to blend.
To form patties, firmly pack crab mixture into a 1/4-cup measuring cup. Invert crab into your palm and press into the shape of a disk, about 1-inch thick. Transfer to a plate and repeat with remaining crab mixture, making about 10 patties. Cover patties with plastic wrap and chill for at least 30 minutes or up to 24 hours to firm up crab cakes.
Meanwhile prepare salsa: In a medium bowl, combine all salsa ingredients. Stir gently to combine. May be made up to 4 hours ahead. Cover and chill; bring to room temperature before serving.
Line a plate or baking sheet with parchment paper. Put flour in a wide bowl or pie plate and season with black pepper. Gently dredge each crab cake in flour and transfer to parchment. Add 1 tbsp oil to a large, heavy skillet and heat on medium. Add half of crab cakes and cook until golden brown, 4 to 5 minutes per side. Transfer to plate or sheet, cover with foil to keep warm and repeat with remaining 1 tbsp oil and crab cakes. Serve immediately with salsa and lemon wedges, if desired!
Mini Spinach and Crab Quiche
Ingredients
cooking spray
1 tablespoon olive oil
½ cup finely diced onion
1 (10 ounce) package fresh spinach, chopped
6 large eggs
¼ cup milk, or as needed
¼ cup shredded sharp Cheddar cheese
¼ cup shredded Asiago cheese
¼ cup grated Parmesan cheese
salt and ground black pepper to taste
¾ cup imitation crab meat, finely chopped
Directions
Preheat oven to 375 degrees F (190 degrees C). Spray 24 miniature muffin cups with cooking spray.
Heat olive oil in a large skillet over medium heat and cook onion until softened, about 2 minutes. Stir spinach into onion and cook, stirring often, until spinach is wilted and onions are translucent, about 3 more minutes. Drain juice.
Beat eggs with milk in a large bowl until thoroughly combined; stir in Cheddar, Asiago, and Parmesan cheeses and season with salt and black pepper.
Divide spinach mixture into the prepared muffin cups (about 1 teaspoon per cup) and top spinach with imitation crab meat. Slowly and carefully pour egg-cheese mixture over the imitation crab, filling the mini muffin cups just to the top.
Bake in the preheated oven until the egg is set, 12 to 15 minutes.
Nasal Breathing: A Surprising Key to Boosting Immunity
How Does Nasal Breathing Protect Against Viruses?
In the situation where a virus is involved, the respiratory epithelial cells that line your nose and lungs produce high levels of nitric oxide. Nitric oxide functions as a signaling molecule to initiate the inflammatory response to viruses. That nitric oxide is produced in the sinuses. Breathing through your nose, not your mouth, causes nitric oxide to be excreted continuously into the nasal airways.
For more information: https://ionbiome.com/products/... New Life Allergy Treatment Center is proud to carry ION*Biome products.
Call New Life Allergy Treatment Center today to get your health back on track! 248-792-2229

Patients will then start on a series of painless NAET (Nambudripad's Allergy Elimination Technique) acupressure treatments. We start by treating the essential nutrients that showed up in their results. This builds up the immune system and makes it easier to treat the stronger allergies. We then treat food items so the patient can eat a healthy well balanced diet without having reactions. The last items treated are usually the environmental agents. The treatments are painless and take about ten minutes each. Most groups clear after one treatment, but some stronger allergies may require two or more treatments to clear.
Call New Life Allergy Treatment Center today to set up your appointment.
USA (248) 792-2229 Canada (519) 962-8754
Clean Eating Magazine
Clean Eating takes you beyond the food you eat, exploring the multitude of health and nutritional benefits that can be yours when you subscribe to a clean lifestyle. In every way, clean eating is all about consuming whole food in its most natural state, or as close to it as possible. Taking a creative yet doable approach to cooking, you'll find it easy to enhance the natural flavors of any meal without compromising the integrity of your food. When it comes right down to it, Clean Eating is not a diet; it's real food for a healthy, happy life.
The magazine is available for free on line at https://www.cleaneatingmag.com/
OFFICE POLICIES
Referral Reward
Refer patients and get $10 off of your next treatment.
Family Plan
If 3 patients from the same family are seen in one visit, you only get charged for 2!
Cancellation Policy – 24 Hour Notice
In order to honor our patients' time and scheduling needs, we will be enforcing our cancellation policy.
All rescheduled or cancelled appointments require 24 hours notice.
You will be charged for missed appointments if 24 hours notice is not given.

First missed appointment: no charge
Second missed appointment: $25 charge
(See receptionist for more details)
Newsletter special! Refer a friend and receive $10 off your next treatment!
**Call USA 248-792-2229 or Canada 519-962-8754